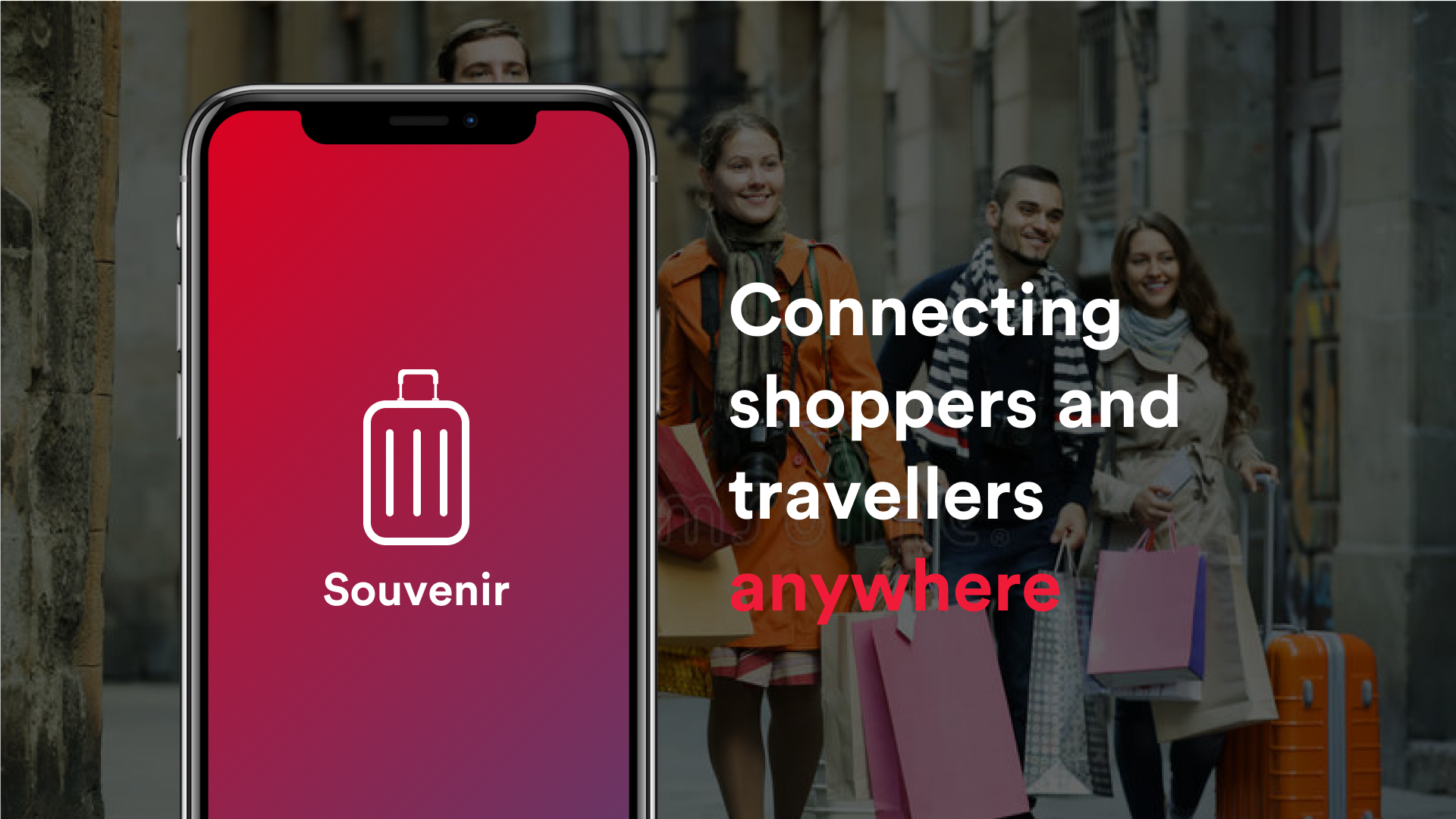 Souvenir is a mobile app, which works as a global community platform held 
that
allows travellers to help shoppers to purchase foreign products during their trips overseas.
Skills:  Graphic Design | User Experience (UX) Design | User Interface (UI) Design 
Tools:  Adobe Illustrator | Sigma
Souvenir is a mobile app design created in my fourth year at SIAT. It 
is a team project about both UX and user interface (UI) designs
. It requires a team of five to create an interactive system 
for a specific domain and context. 
For our team, we designed Souvenir, which works as a global 
community platform that allows travellers to help shoppers to 
purchase foreign products during their trips overseas. Therefore, we 
aim to build
a mutual aid community by sharing luggage spaces
to 
connect both travellers and shoppers anywhere in the world.
To start off the project, we began from a very common practice – 

asking a friend to purchase something for us when he/she is traveling abroad

. To prove this belief, we conducted interviews with young adults aged from 18-30. The respondents have such habit of asking friends to purchase foreign products which are less likely to be available in their countries (Team Souvenir, 2020). 
To further expand the idea, we researched on Canadian's traveling frequency by looking at the Year-end Review on Traveling conducted by Statistics Canada in December 2019. There are more Canadians traveling abroad with an increase to 1.1 million trips (Statistics Canada, 2020). Therefore, we came up with the concept of turning travellers into purchasing agents.
To better scope our project and design specifically, we first identified the target audience of our mobile app design - frequent travellers.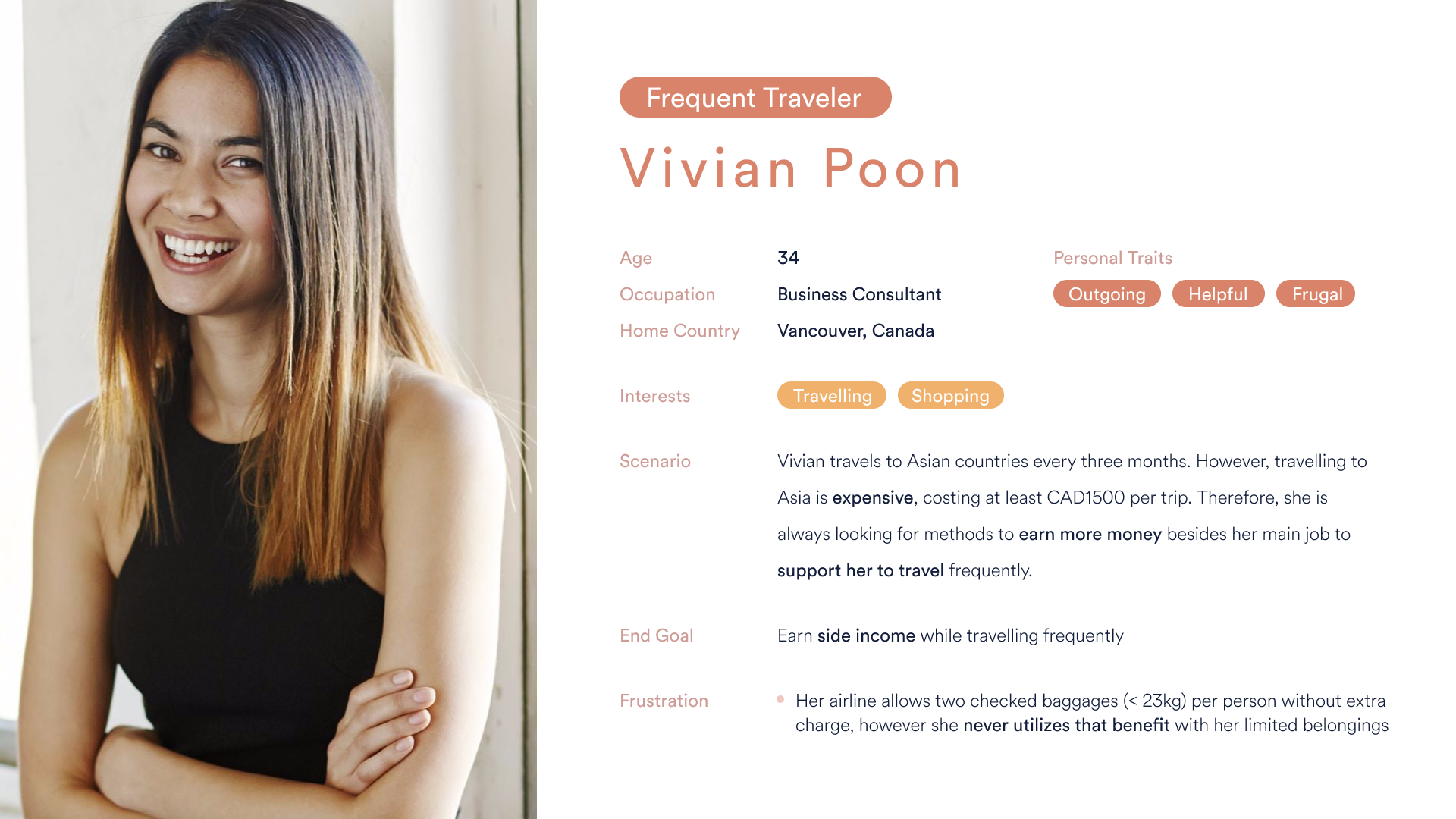 For the next step, we worked on grey-box wireframes to explore possible interactions and flows to perform critical tasks for the application, including core features of offers browsing, group purchasing, requesting items, accepting requests and messaging.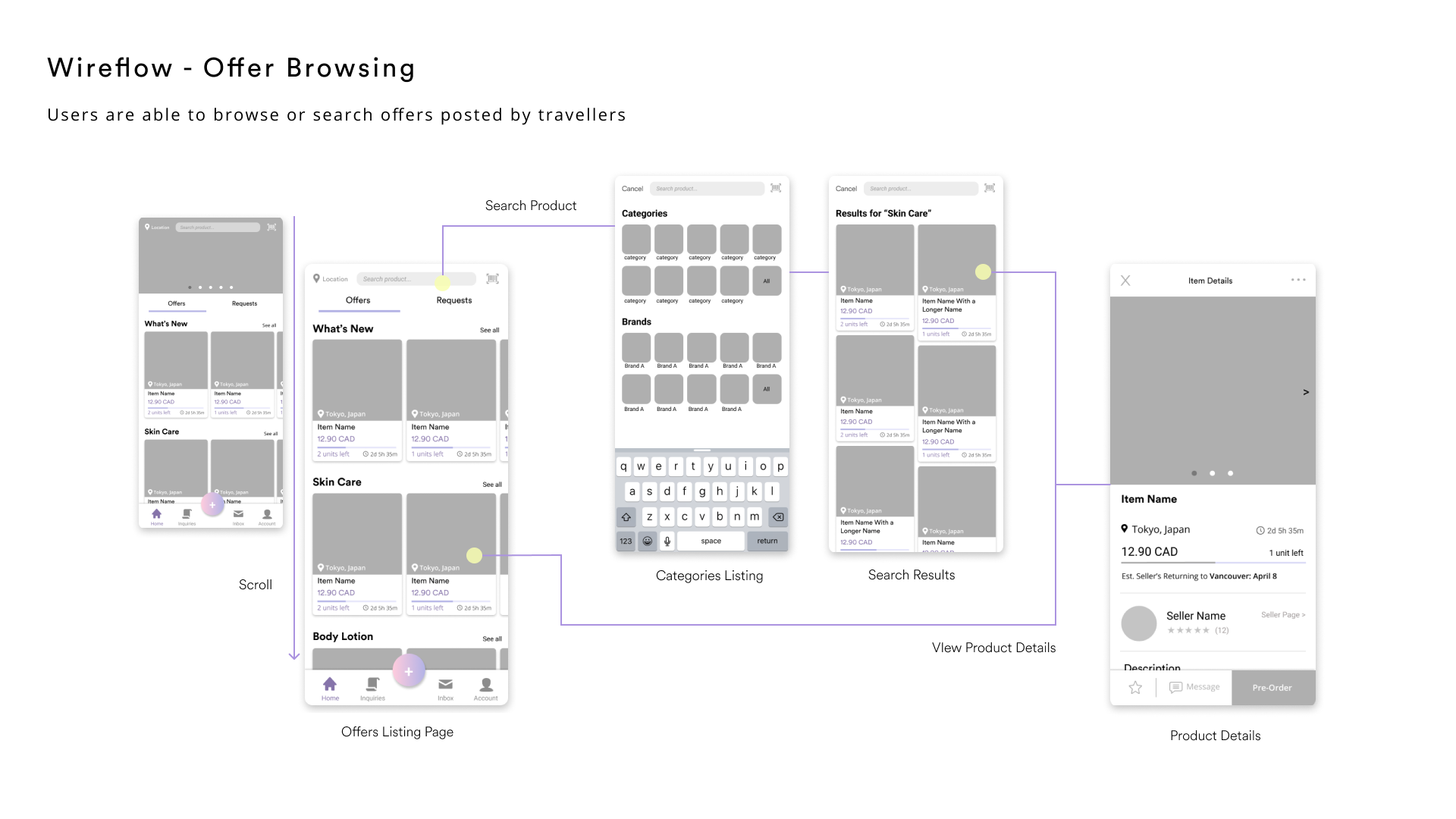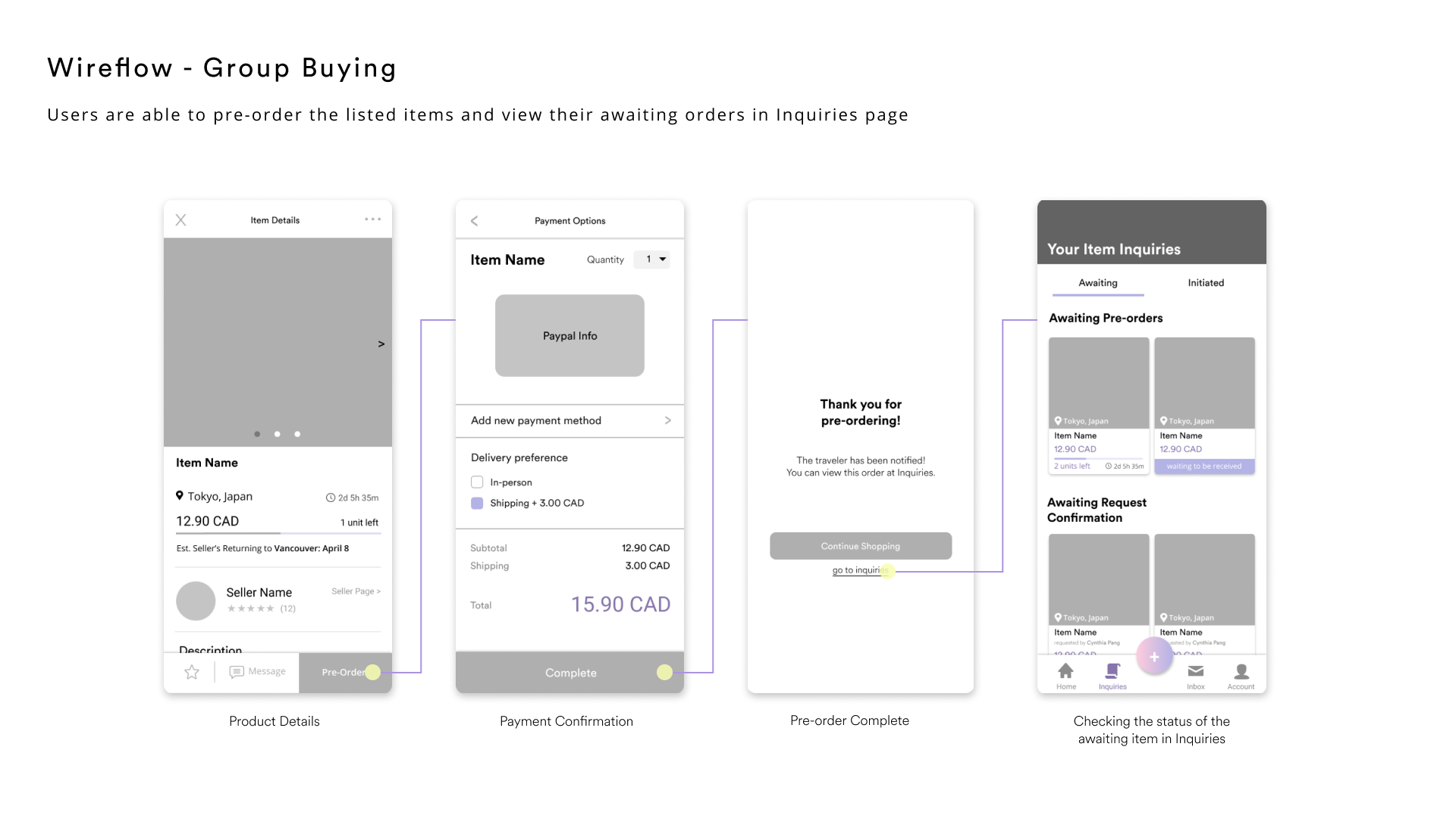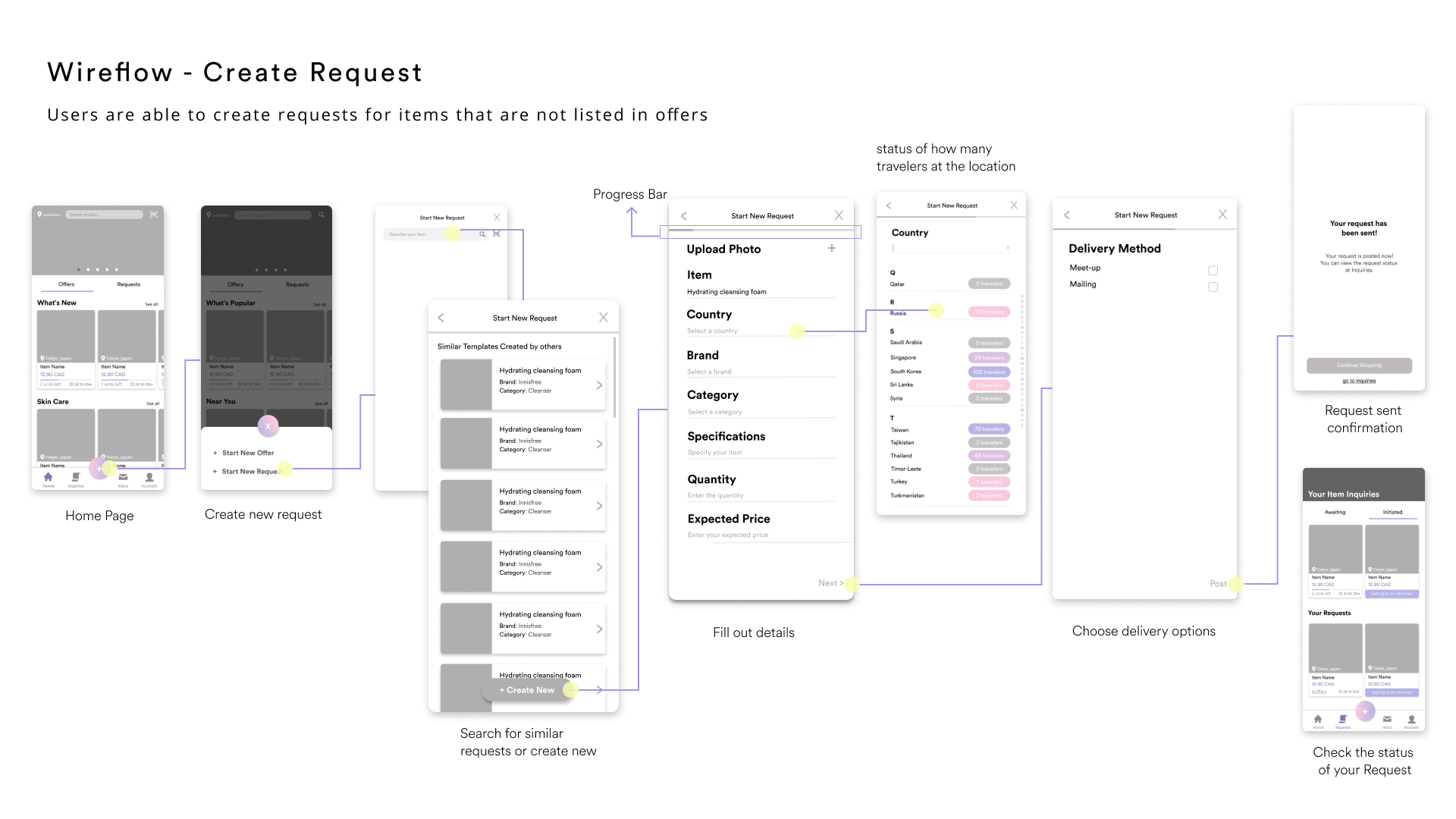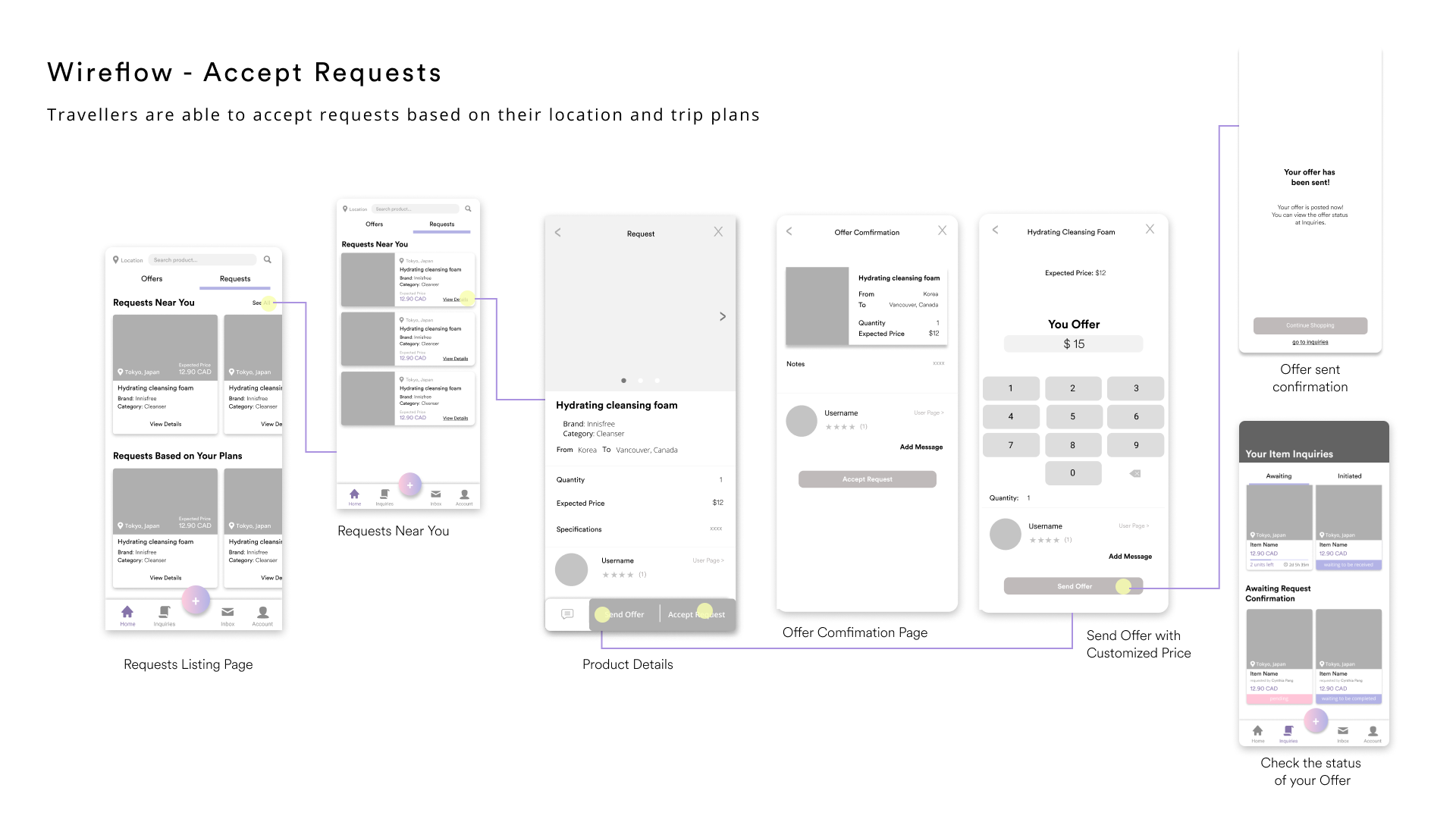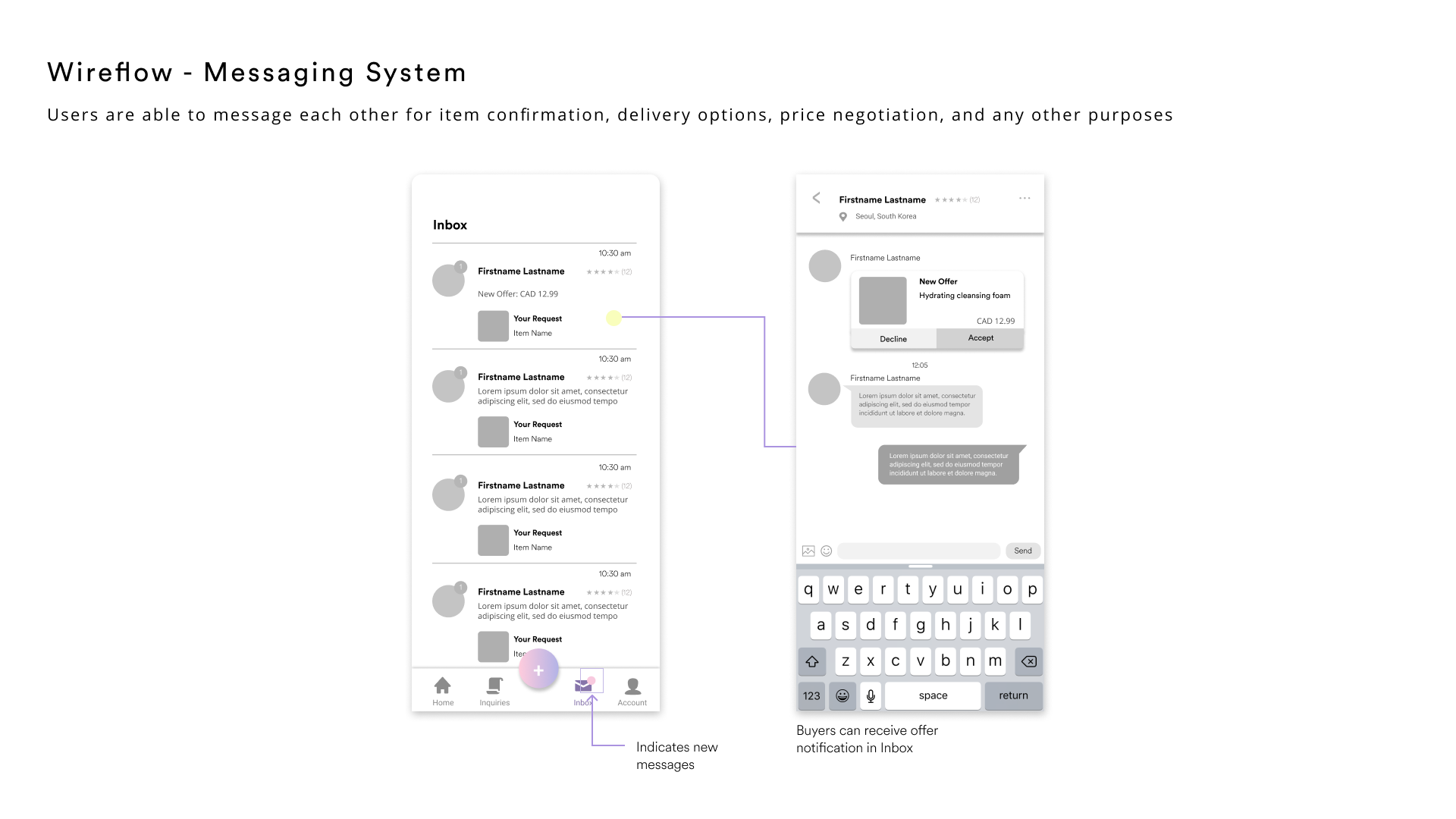 However, we noticed that there is no necessity to include group-purchase feature as it is difficult to compete with big big e-commerce platforms like Amazon in terms of prices. Therefore, to elevate the design, we further more focused on community-based one-on-one services, and design the application to be more personalized.
After collecting feedback from instructors, we worked on the mockup to explore new personalized feature and visual cues for the application. Therefore, we currently have the following core tabs: item requesting, luggage, messaging, and account.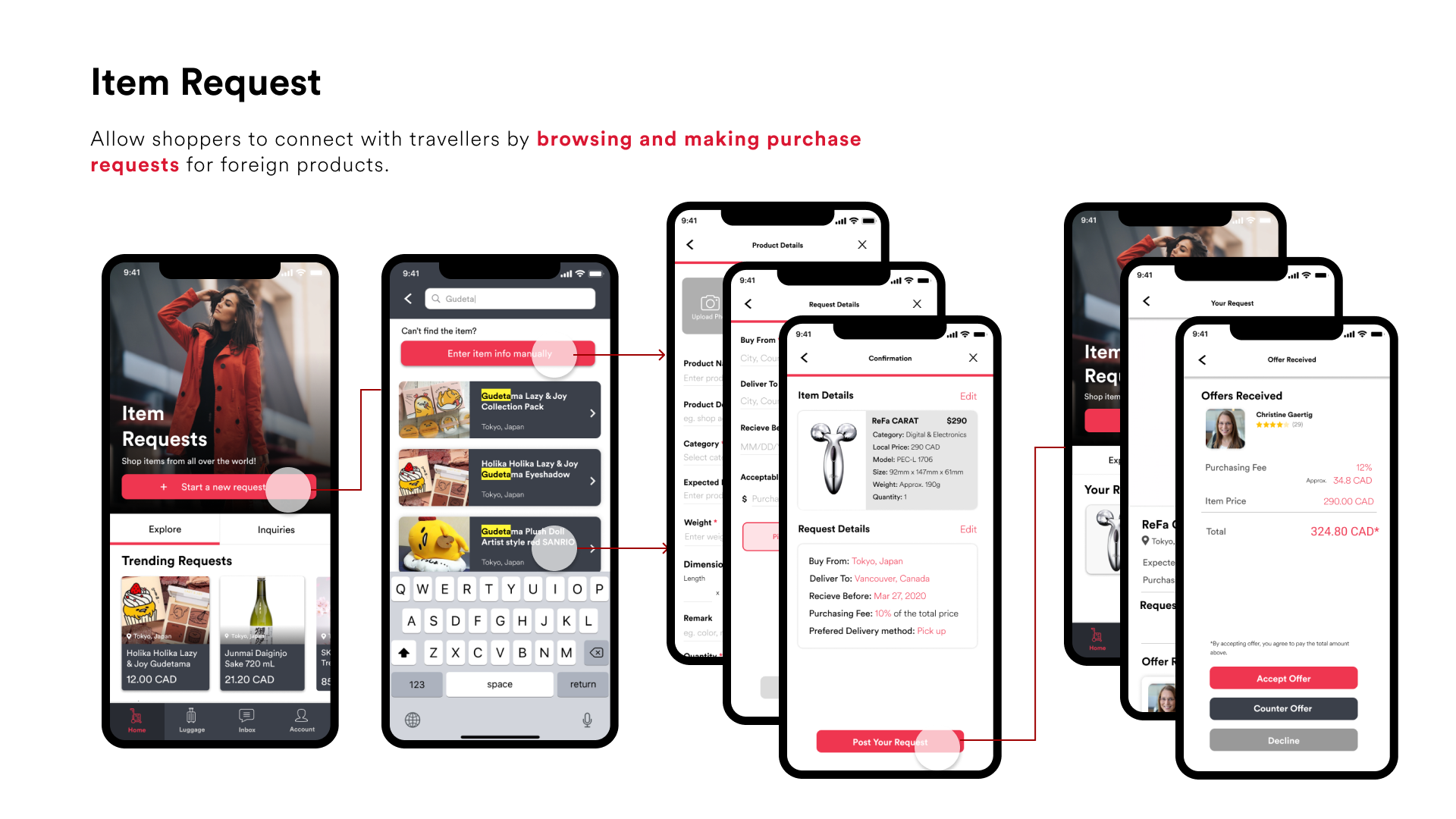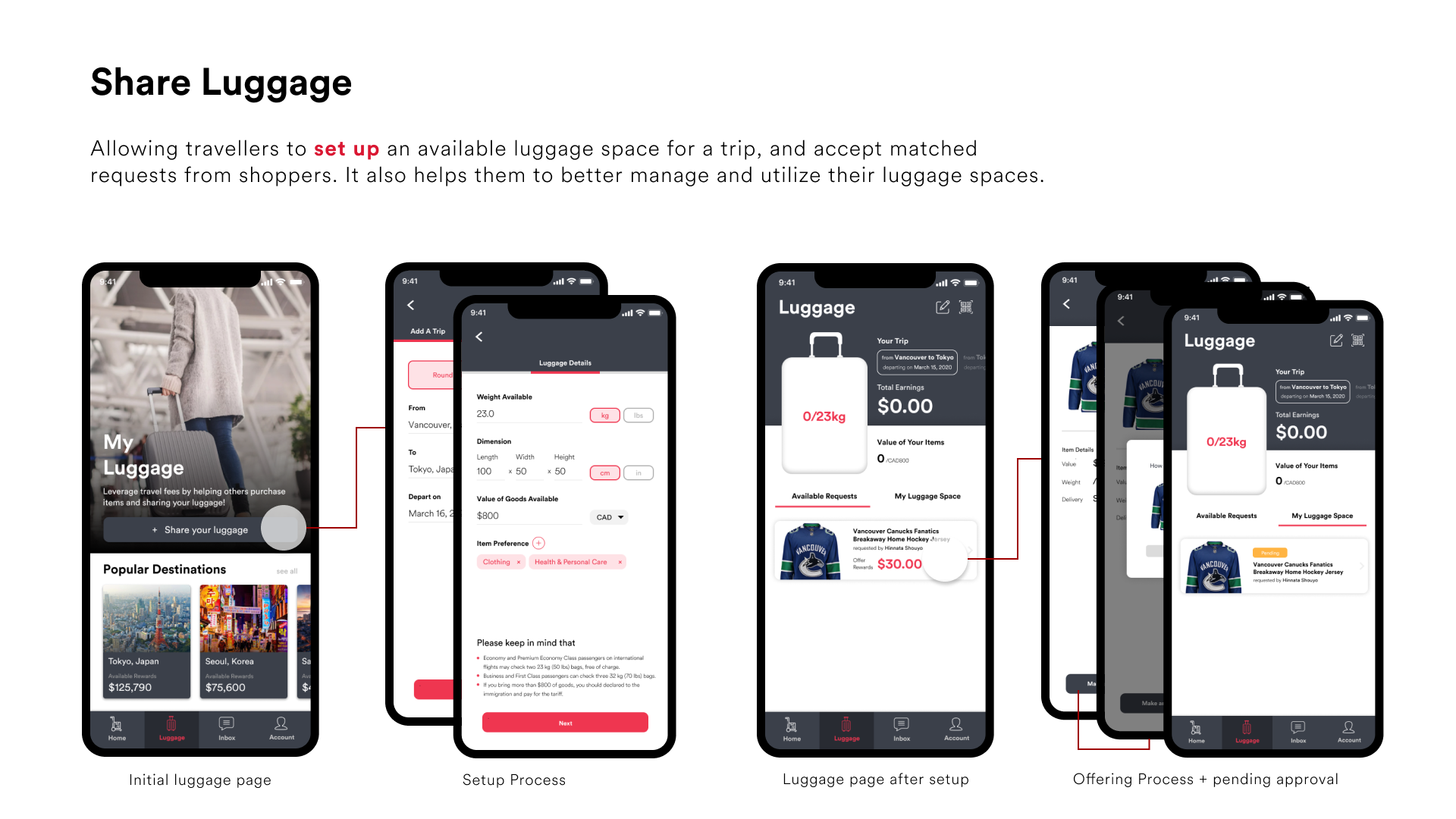 To further modify and improve our designs, we conducted few A/B testings, speak aloud tests and qualitative interviews with potential users. Overall feedback was great, especially the feature of sharing luggage, users believe that it is useful and convenient to manage their luggages while picking up item requests. However, users are still a bit annoyed with information filling and hope to be simplified for the final design.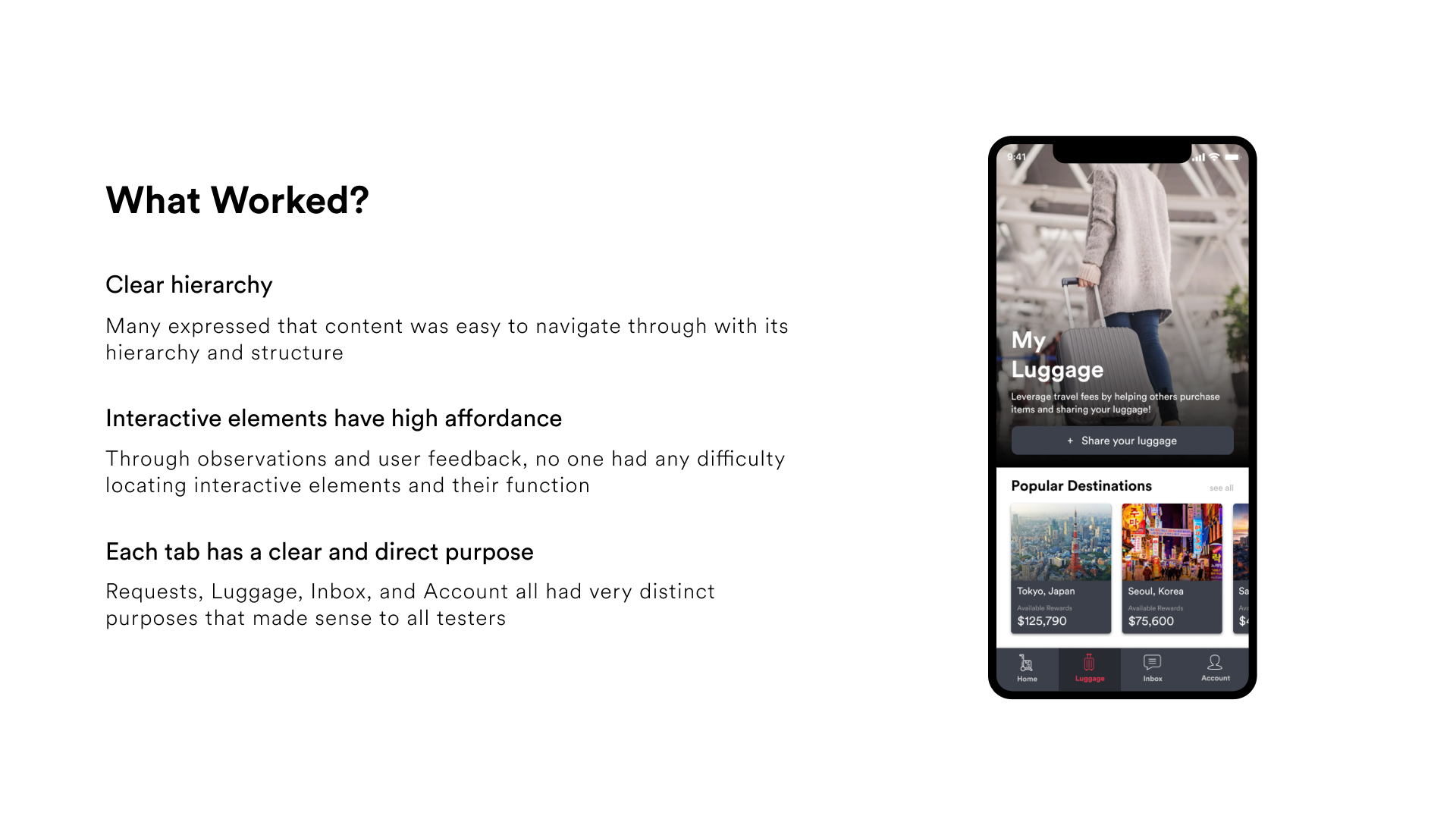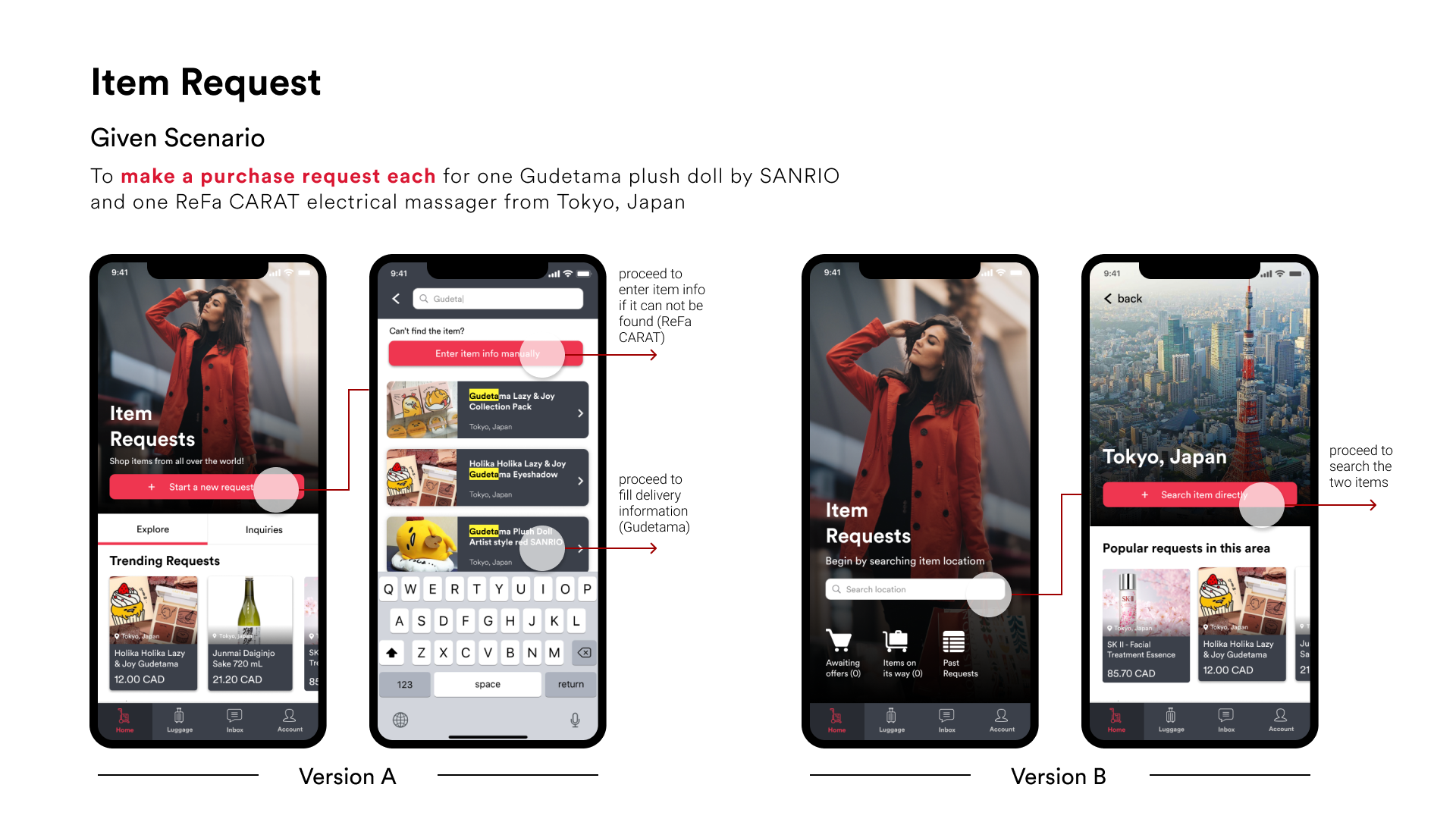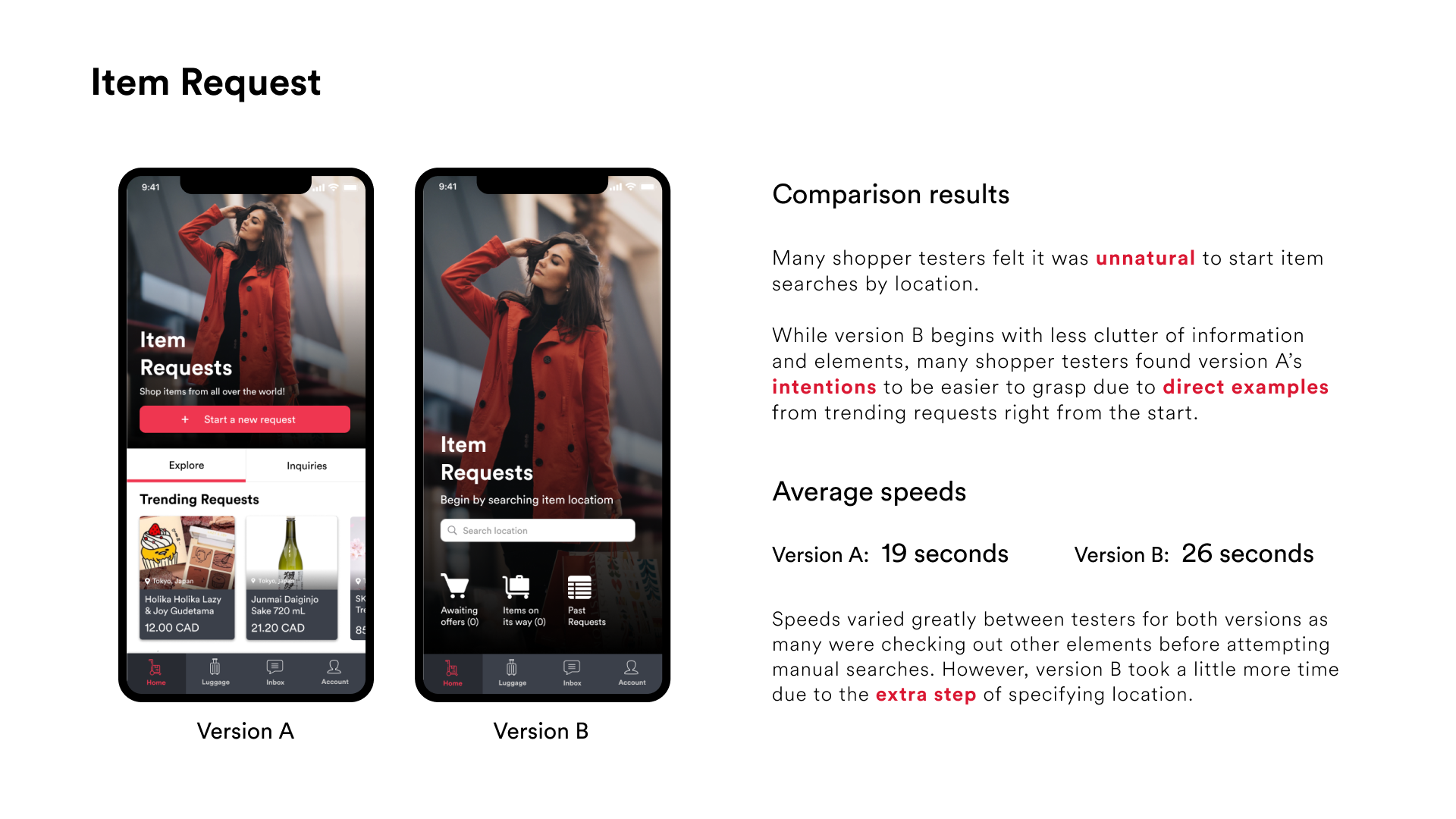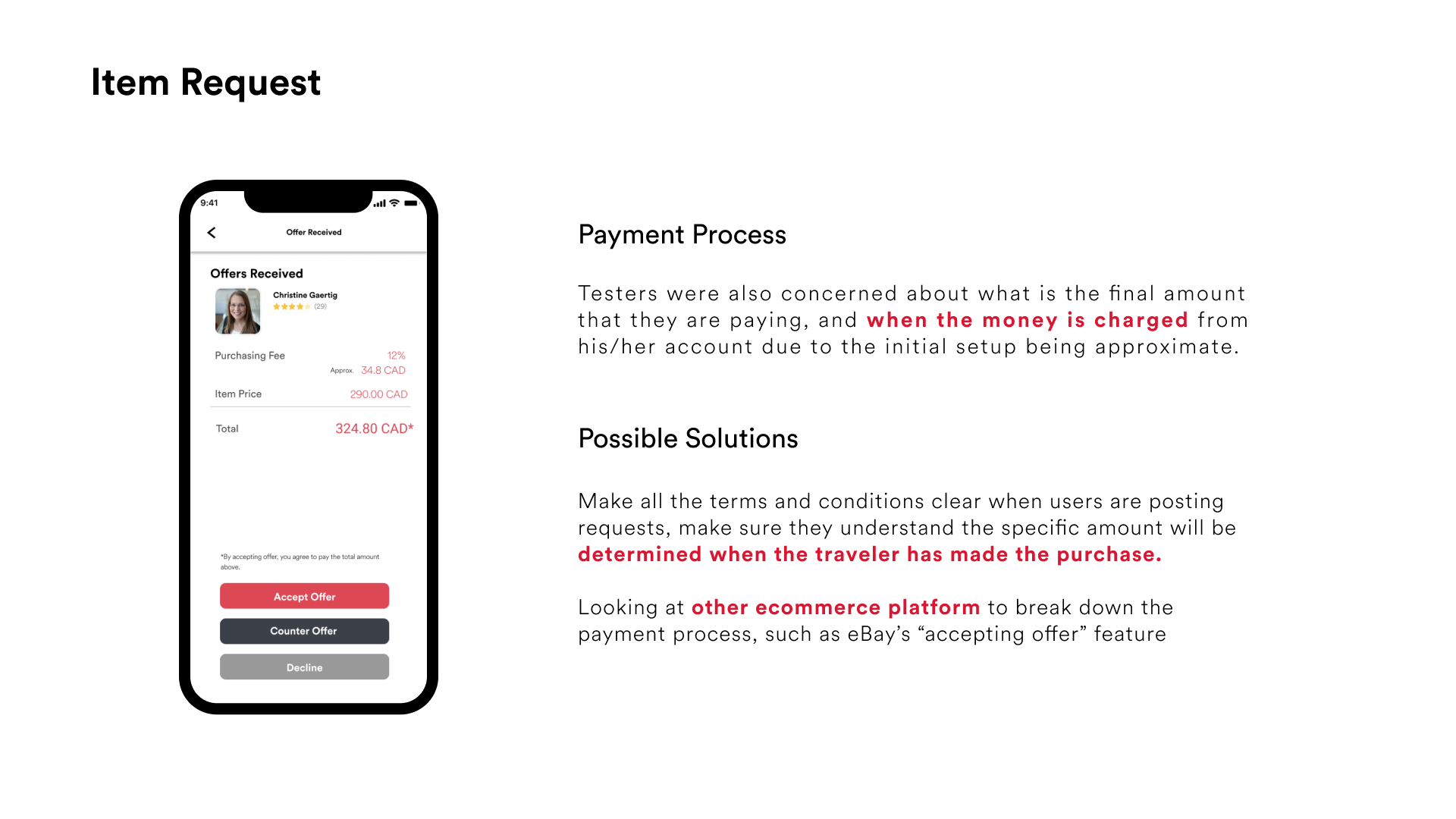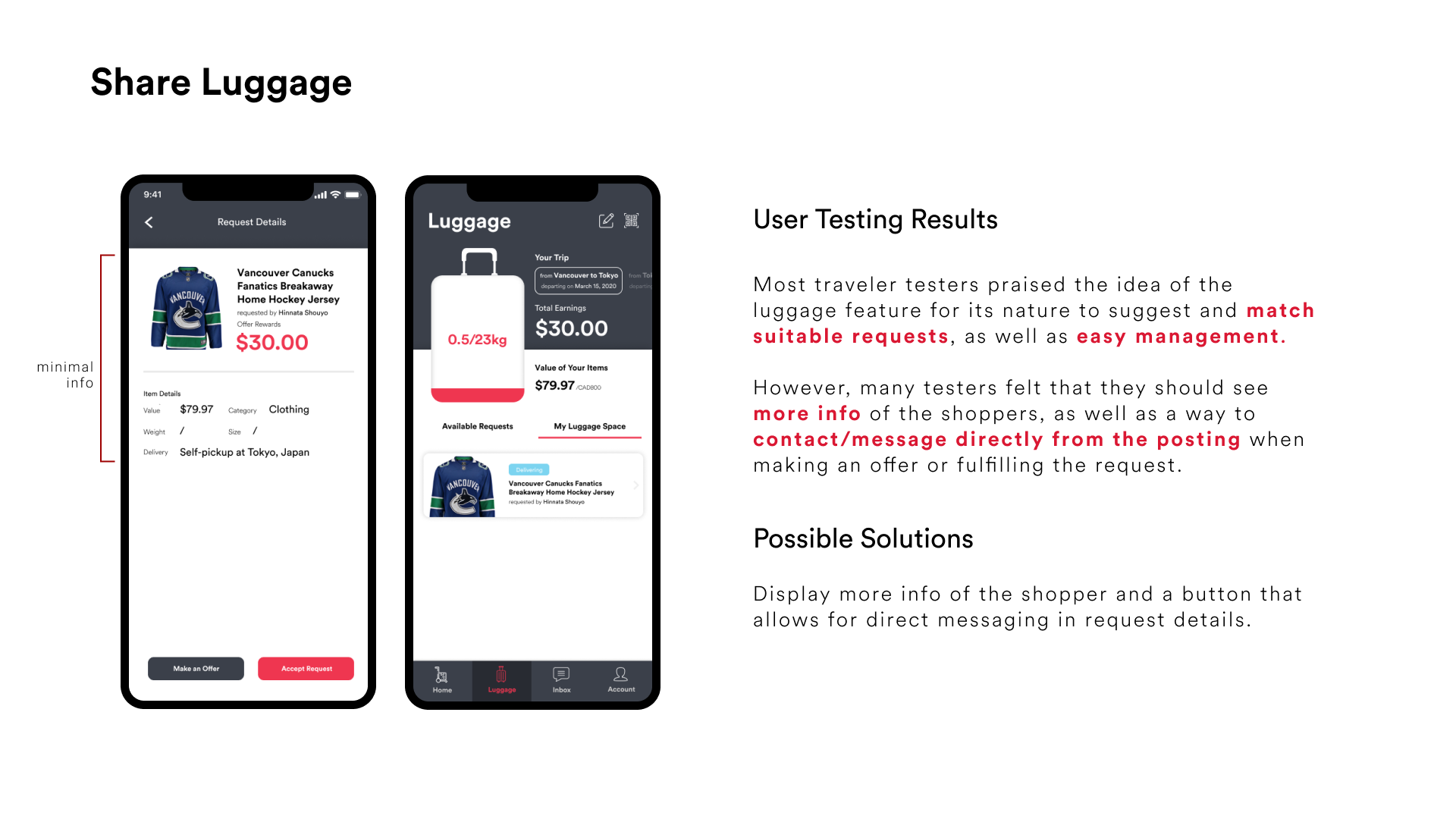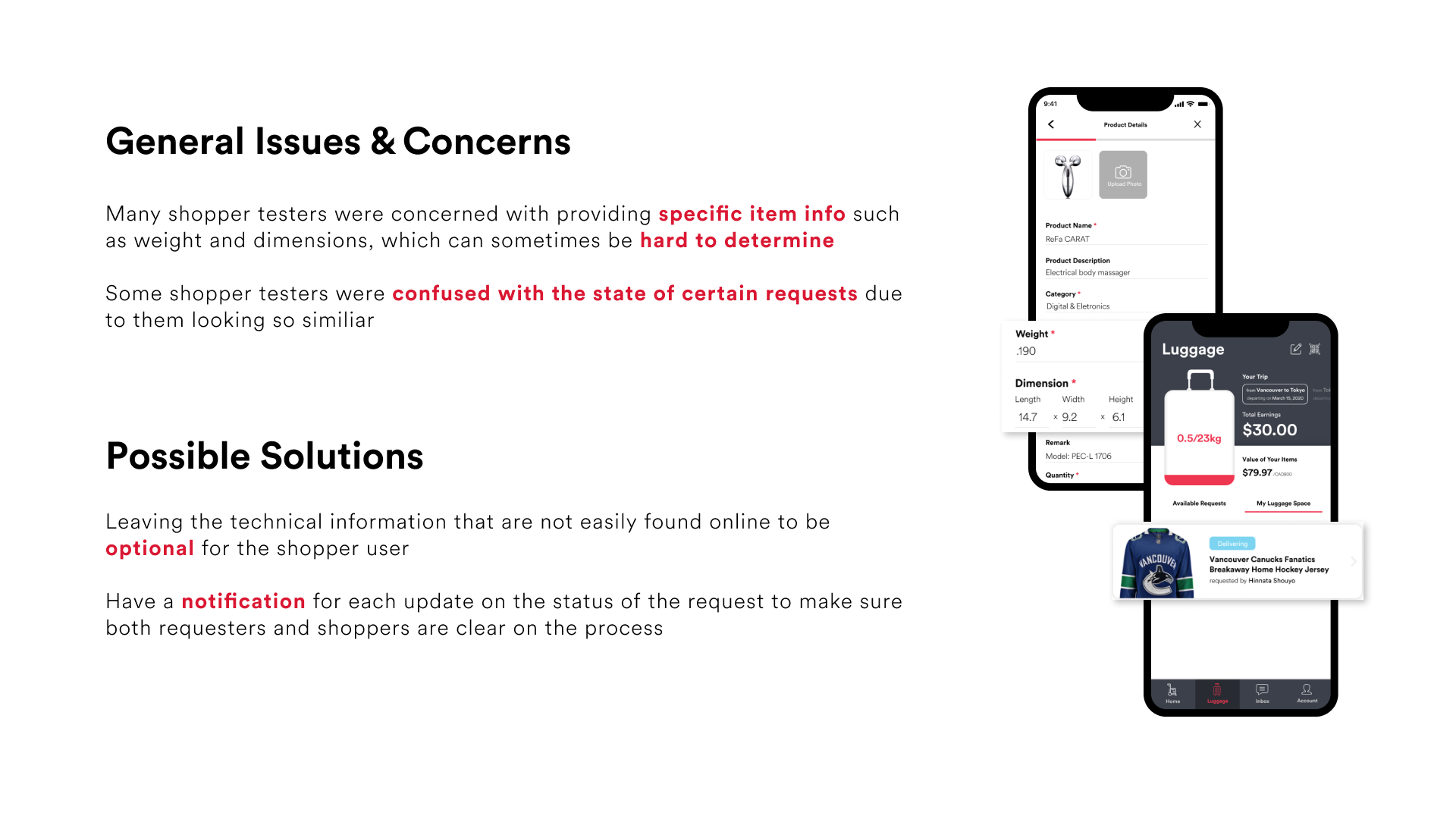 To evaluate, the biggest challenge would be time-management as there are too much work to be handled in the project, including user researching, journey mapping, interface designing and presentation preparation. Thus, we distributed work evenly according to our own skills and worked along with each other cohesively. As a result, instructor is looking forward to our final product for the project.
​​​​​​​